For such an international city, how is the night scene still so French-focused?
You've probably seen it a million times: Parisians lined up, blocking the sidewalk outside a local theatre after work, waiting for entry to see a show, every night of the week. Haven't yet been privy to the familiar scene? Be on the lookout and you'll be surprised at exactly how many small local theatres there are dispersed throughout the city. They're on your radar now, trust me. Theatres tend to crop up where you least expect!
Take the Theatre de Ranelagh for example; away from the city center, this inconspicuous establishment is hiding a decadently historical and ornate playhouse inside, once part of a château. Or the Theatre Edouard VII, the home of Parisian comedy, just a stone's throw away from the Opéra Garnier but hidden-in-plain-sight in a pedestrian courtyard.
French Theatre with English Subtitles
But the good news, this not-so-underground theatre scene is no longer untouchable for those of us that aren't quite up to par with la langue française. In the past, aside from attending one of the few regular English comedy nights, or the traditional opera or ballet with minimal dialogue, options for English speakers to see a show in Paris were relatively limited.  
Theatre in Paris was born in 2014 when it's very French co-founder wanted to take his Aussie roommate to a show, and realised that the City of Lights offered literally no options for the poor mate that didn't speak a word of French. Solution? Take a French show and add English subtitles! The small local company now partners with  theatres and playhouses all over Paris to make French plays and performances accessible to English speakers.
Whether just visiting Paris, or you're here to call the city your home, enjoy a truly French experience and see a show alongside the locals, without worrying about the language barrier. Tickets are purchased on their dedicated online platform, and special bilingual hosts are waiting at the theatre entrance to hand out a special programme in English and give a few fast facts and insider stories about the show and the history of the playhouse. From comedies to classics, and even a few musicals, there's always something new playing with Theatre in Paris.
THE LATEST SHOWS TO HIT THE PARISIAN THEATRE SCENE
'Somewhere in this Life'
A very French twist on the US Broadway his 'Park Your Car in Harvard Yard', the latest modern comedy to hit the legendary Theatre Edouard VII.
'Somewhere in this Life' is a French adaptation of the Boston-based hit 'Park Your Car in Harvard Yard.' A grumpy retired music teacher and his optimistic new housekeeper are forced into a shared existence; a mismatched pair both hilarious and moving, they will have you enthralled in such an unexpected friendship. On a journey of self-discovery, the improbable duo begin to recreate a new sense of normalcy, and may just uncover that it is not the first time their paths have crossed!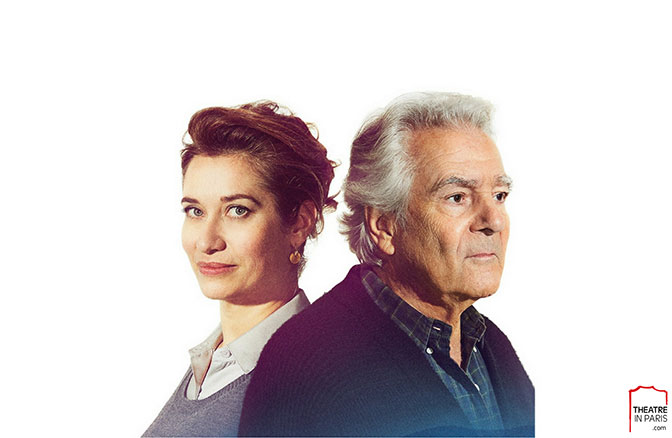 'Somewhere in This Life' is showing at the Theatre Edouard 7 (10 place Edouard VII, 9th, metro Opéra (Lines 3, 7, 8), Madeleine (8, 12, 14) or Auber (RER A)) premiering February 2, 2018 and playing through June, showtimes from Tuesday through Friday at 9pm, Saturdays at 5:30pm and 9pm, and Sundays at 3:30pm. Ticket prices start at €46 per person. Book tickets here.
'Oh my God, she's Parisian!'
Julie Collas is the one-woman powerhouse that's taking stand-up comedy to great heights at the trendy new Theatre BO Saint Martin!
This one is a bit different. Its a stand-up-style comedy 100% in English by the very Parisian Julie Collas. After years in the US, this born-and-bred Parisian left a successful (albeit buttoned-up) legal career to let her inner comedian roar. Hilarity ensues as she demonstrates just what it is to be a woman in Paris. Live a hectic day in the life of Julie Collas - a Parisian to the core - and have your sides splitting at her endearingly silly French accent.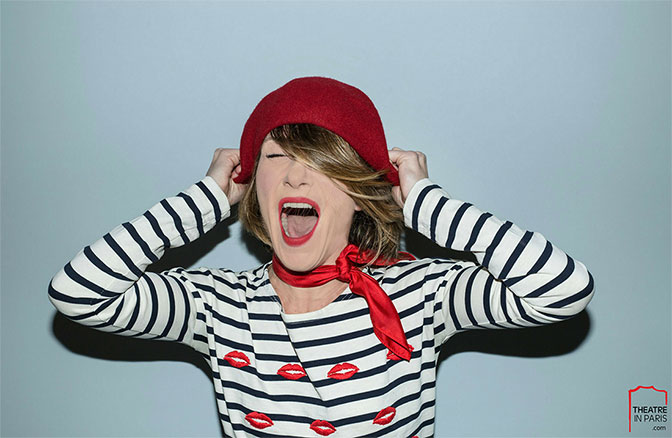 'Oh my God, She's Parisian' is showing at the at the trendy Theatre BO Saint Martin (19 boulevard Saint-Martin, 3rd, metro République (Lines 3, 5, 8, 9, 11) & Strasbourg St Denis (Lines 4, 8, 9)), the modern new home of stand-up comedy in Paris. Showtimes weekly on Friday and Saturday evenings at 7:30pm. Ticket prices start at €19 per person. Book tickets here.
ABOUT THEATRE IN PARIS
How it works? Simple. Purchase tickets on the online ticketing platform. On the day of the show, meet your bilingual Theatre in Paris host in the theatre entry to hear about the history of the venue and insider information about your play, and receive your special programmes in English.
The translations, or 'surtitles', are projected on a small screen above the stage so that you can follow along with the French audience. Each seat allocated with Theatre in Paris is specially selected to guarantee visibility. Everything is taken care of to ensure you enjoy a night out with the locals!
For more information, visit the Theatre in Paris website and check out their current shows. A truly memorable night out in Paris?
Check. 
10-day Tours to the French Riviera
Small-group Tours for Women staying at
Villefranche sûr Mer on the Côte d'Azur
Click here to visit the Tour page,
or fill in the contact form below for a copy of the brochure.
Let me know if you are shooting for June or September. X
Stay in the *heart* of Villefranche sûr Mer. Discover the Côte d'Azur: the hilltop village of Èze, over-the-top Monaco, gentle Antibes and rocking Juan les Pins, vieux Nice, and more. Swim at Beaulieu sur Mer, visit Villa et Jardins de Rothschild and the divine Villa Kerylos.
Go touring and experience those fabulous Mediterranean views, and have lunch in Italy. Breakfast at the celebrated Welcome Hotel, dine by the harbour, and relax in a beautiful apartment in the old town.

Oh, the places, the views, the food, & the shopping..!