So, you find yourself in the City of Love, the home of Le Tour Eiffel, the most romantic place on Earth, and it would all be absolutely perfect except for one small, yet crucial, detail.
It's raining...
It's too wet to stay out and watch the Eiffel Tower light up at night, go on a romantic boat tour, or take a leisurely walk throughout the city. But, don't worry! I'm here to tell you some of the best things you can do in Paris on a rainy day, so you can still find enjoyment in this gorgeous city.
Maybe the rain can even enhance your time here!
Here are my top 10 things to do in Paris when it rains.
1. Of course, in my completely unbiased and impartial opinion, cinema is by far one of the best things do in Paris always, but particularly on rainy days. And especially with the help of Lost in Frenchlation™.
No matter what the weather, the cinematic experience is a must in Paris. The good news is, if French is not a language that you are particularly good at, Lost in Frenchlation™ offers screening of French movies with English subtitles! Happy days!
You can watch literally hundreds of different films from some of the most beautiful cinemas you'll ever venture into. Check out the Louxor, a 1920's Egyptian and Art film house, or the Grand Rex, which has the largest screen in Europe - both great cinemas. Plus, there are smaller, independent cinemas such as Luminor and Studio 28.
Visit their website and check out their upcoming movies and make a plan to take in some genuine French culture when you're next in Paris...
Explore the Galerie Véro-Dodat passage.
2. Among the multiple hidden passages throughout Paris, this one is considered the 'hidden gem'. It is located near the Louvre and is perfect for a calm and fun indoor day filled with art galleries, lavish shops, and even the François Charles music shop! Other indoor hidden passages include the Passage des Panoramas, the Galerie Vivienne, and Passage Jouffroy! All of these are perfect for a rainy day in Paris as they are all covered and beautiful!
3. Create your own personalised perfume! Musée du Parfum Fragonard offers you the unique experience of creating your own perfume! This sensory-enhancing event is takes place in Maison Fragonard, the legendary French perfume house. There is also a museum that offers an extensive look at the perfume-making process. This truly is a one-of-a-kind experience on any rainy day.
4. Go to a comedy show. Seek shelter and laughs with the multiple comedy shows Paris has to offer. One in particular that will make any English speaker laugh until they cry is How to Become a Parisian in 1 Hour. The only water you'll encounter is the water coming out of your eyes from laughing so hard!
5. If you enjoy haunted houses or daunting thrills, especially on a rainy or stormy day, you should consider Le Manoir de Paris. You can play the Skeleton Key, an interactive "escape" game that will have your adrenaline rushing! What better place to be scared out of your mind than the city of love?!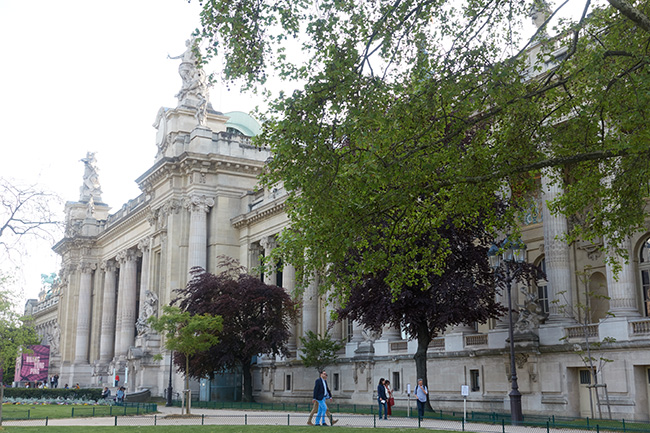 Visit Le Grand Palais!
The interior is absolutely beautiful, and this intriguing monument will bring you so much knowledge and joy that you will forget about the grey clouds outside.
6. The building includes cultural and scientific discoveries that will blow your mind! Le Grand Palais offers amazing an amazing cinematic experience with Cinema Paradiso which offers the largest Drive-In cinema the capital has to offer that accommodates up to 10,000 people! Le Grand Palais also offers art exhibitions, contemporary art such as Art en Capital, ice rinks, Festival of Dance, and sports including Red Bull Skylines and the World Fencing Championships!
Want to travel with an onboard bag, but not sure how to manage it? Download my free Onboard Bag Travel Checklist

here.
Enjoy the Greenhouses of André Citroën park!
The entry is free and is a one-of-a-kind.
7. Enjoy the themed gardens, and air balloon experience that offers a beautiful view of the city. There are 2 large and modern greenhouses built on stone bases and has pretty water fountains outside- perfect for if you are already wet from the rain! Inside are unique trees, rare plants, and more beautiful scenery!
8. You hear all about how amazing French food is, and as Gusteau from Ratatouille says 'anyone can cook' - including you! Get the authentic French culinary experience with a home cooking class, food tour, baking class, or dinner in a French home! With 'Paris A Dream' you can choose between cooking an authentic meal from a French home, a baking class specialising in pastries, or culinary food tours throughout the city! If cooking is your thing, or even if you are no good at all, this is great opportunity to practice and taste amazing food!
9. Enjoy wine and cheese tasting at 'Secret Wine Door'. Why not enjoy the rainy day by tasting cheese and enjoying wine like you never have before? There is a wine expert to talk you through the French wines and indulge in amazing cheese for an authentic French experience. This is a memorable and quite unique experience that takes place in the heart of Paris!
10. Embrace the weather! Paris is beautiful and, of course, as the famous quote goes from Midnight in Paris, 'Actually, Paris is the most beautiful in the rain'. She does have a point. The streets are beautiful as they contrast with the city lights, the architecture looks a little shinier, and the dark, soft sky helps emphasise why the most romantic place on Earth is Paris, even in the rain.
So, run outside through the streets, get your feet wet, and enjoy the charming scenery.
I guess rainy days aren't so bad when you're in Paris!
Guest Post by Charlotte Jolley, of
Lost in Frenchlation
Lost in Frenchlation brings the best of French cinema to the international community in Paris by screening French films with English subtitles at independent cinemas in Paris!
I'm Louise Scott
Editor, Photojournalist & Tour Director at All Things French
10-day Tours to the French Riviera
Small-group Tours for Women staying at
Villefranche sûr Mer on the Côte d'Azur
Stay in the *heart* of Villefranche sûr Mer. Discover the Côte d'Azur: the hilltop village of Èze, over-the-top Monaco, gentle Antibes, vieux Nice, artsy St Paul de Vence, and more. Lunch at Beaulieu sur Mer, visit Villa et Jardins de Rothschild and the divine Villa Kerylos, explore medieval Italy, and dine in any of the fabulous restaurants in Villefranche.
Go touring and experience those fabulous Mediterranean views, and have lunch in Italy. Breakfast at the celebrated Welcome Hotel, dine by the harbour, and relax in a beautiful apartment in the old town.

Oh, the places, the views, the food, & the shopping..!