My Stylish French Box first came to my attention a few months ago on a warm Sunday afternoon, surfing Instagram with a glass of wine and dreaming of France. I already follow Sharon Santoni on Instagram bien sûr, ever since I got a copy of 'My Stylish French Girlfriends' a few years ago from a thoughtful friend. I'm hooked.
So, when I saw an image & link to @mystylishfrenchbox in her gallery, I had to head on over to have a look!
Turns out My Stylish French Box is a boxed selection of diverse, delicious, and divine French items, carefully chosen and gathered together in a silky white box, delivered to your doorstep, anywhere in the world (there's a small surcharge for shipping to Australia and New Zealand).
Every season the contents are different.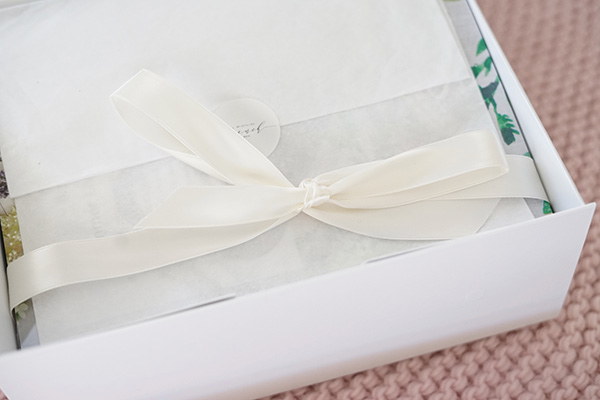 Who doesn't love a regular dose of French style?
Four times a year, Sharon and her team carefully curate unique items from all over France into these wonderful treasure chests, and the whole thing is kept a secret until well after the final box is shipped to its destination. Each box contains a variety of products from fresh, young brands through to established, iconic French houses.
So, when I got the opportunity to receive one of these delightful packages through the mail, my response was, 'Mais oui, bien sûr!'
I was so excited I could hardly wait!
I lined up my beautiful niece Jess at Plush Design Studio to take some photos, and waited for that knock on the door …
Can you imagine? I didn't even open the box until I was at her studio, fully 5 days after receiving it! Now *that's determination. I wanted to get some shots of the 'grand reveal' for my Instagram Stories, and I knew she'd be excited too!
So, what's inside My Stylish French Box?
Oh, the feeling. The anticipation. The lovely, silky, generous box. The experience of effortlessly opening the gently magnetised clasp, of untying the silky be-ribboned deliciousness delivered in tissue.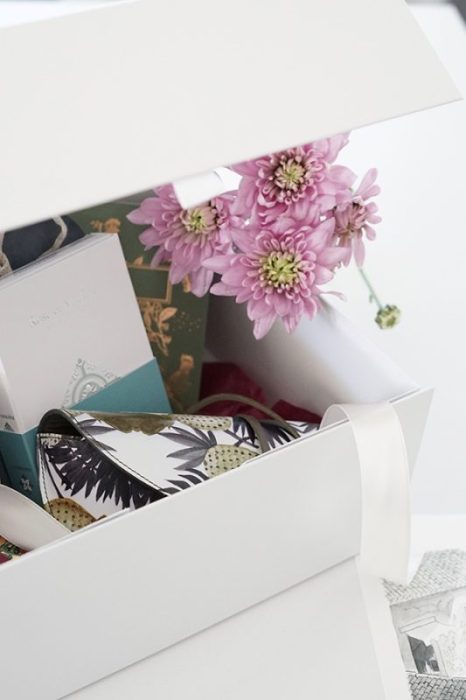 My Stylish French Box understands the slow pleasure in unwrapping the treasure.
Taking my time here …
The first thing I discover is a beautifully-crafted leather glasses case from Les Pavés Sonores, with a gorgeous botanical print with casual, easy fastening. I've *just ordered a new pair of multi-focal transition glasses (you know, the ones that magically become dark in the sunlight) so the timing is spot on.
I'm tickled pink! Perfect.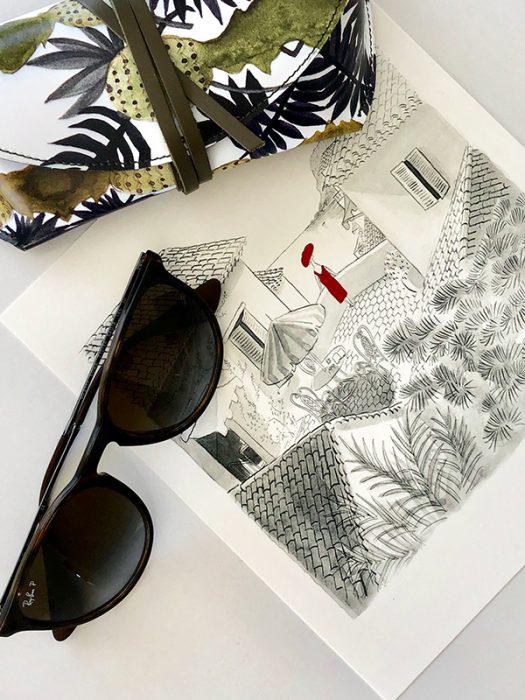 What box of Provence goodies would be complete without some lavender?
I remember seeing lavender wands from La Maison Franc when I was right there in their shop in the Luberon, just a few short weeks ago! You all know that I'm not a shopper (more of a minimalist), but now I have one ... yay!
Created from beautiful stalks of lavender, tied together with a soft satin ribbon. The fragrance lasts for years, you just need to give them a little squeeze from time to time to crush the lavender and refresh the scent ... and your memories … X
Aren't they pretty?
A special treat (and perfect for the traveller in me) is a delicious solid fragrance from Rose et Marius.
This perfume smells beautiful and looks superb, in a sweet, quality, refillable little box whose design was inspired by the floor tiles of the brand's creator, Magali Fleurquin-Bonnard, grandmother's house. Oh!
There's a purse-sized mini-notebook from Les Éditions du Paon, artisan-made en France, with a gold embossed cover. Sweet paper, and just *lovely to hold.
Plus, a cute little slate chalkboard (*with chalk) from Un Esprit En Plus, for playing with!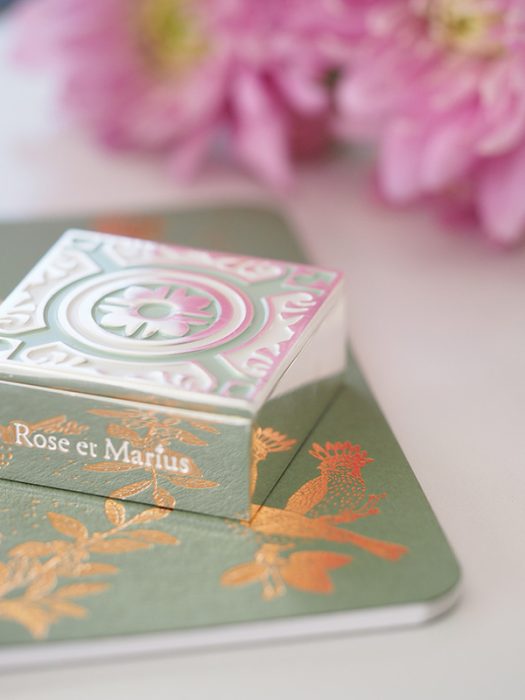 A joy to unwrap - and a real favourite - is the beautifully presented botanical print from an 18th century botanical encyclopedia.
Sharon sourced a book of these from a favourite antique dealer just last September. She's been saving it for just the *right themed box, and this one is it! I feel very special ...
There's also the latest watercolour print from the celebrated French cartoonist Jean-Jacques Sempé, which have been included as a part of a series in My Stylish French Box. I imagine the lady in red (perhaps moi?) as sitting on a delightful terrace above Cap Ferrat on the French Riviera, gazing out over the Mediterranean, and dreaming of a holiday in Provence.
Heaven.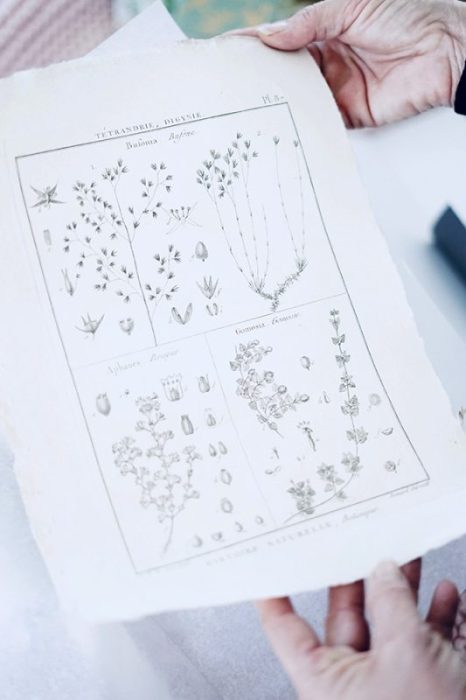 Continuing the botanical theme, there's a pair of beautiful cushion covers come from Charvet Edition.
There's nothing like the feel of quality linen, and the knowledge that it will just get better over time. Especially crafted for Sharon Santoni from beautiful, soft linen in a fresh leafy print. Perfect, since Spring is just around the corner ~ in my part of the world ... en Australie.
They'll sit happily on my white wicker chairs.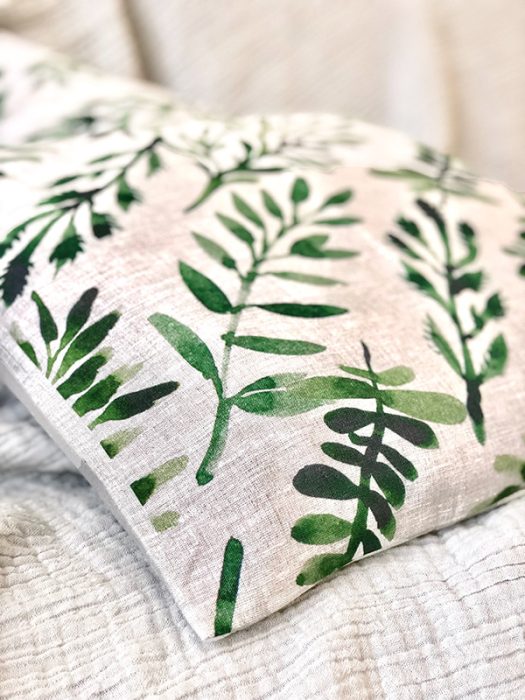 By the time we got down to the delicious bottle of olive oil from Nicolas Alziari, I'm in a dither.
I had offered to share the booty with my niece for taking the photographs. Could this be a dilemma?
You know what? I'd give her the moon! Aren't they great images, and isn't it a beautiful box of goodies? Jess went for the Rose et Marius solid perfume (it was my favourite element but I was happy for her to have it!), the olive oil (again happy, 'cos you know I don't cook) and the exquisite, vintage botanical print. She takes beautiful pictures and it will be the perfect prop …
I've got the lavender (woo!), the sunglasses case, notebook, chalkboard, Jean-Jacques Sempé print, the stunning botanical printed cushion covers, and the beautiful box.
I've got a bit of a thing about boxes, being an organisation freak.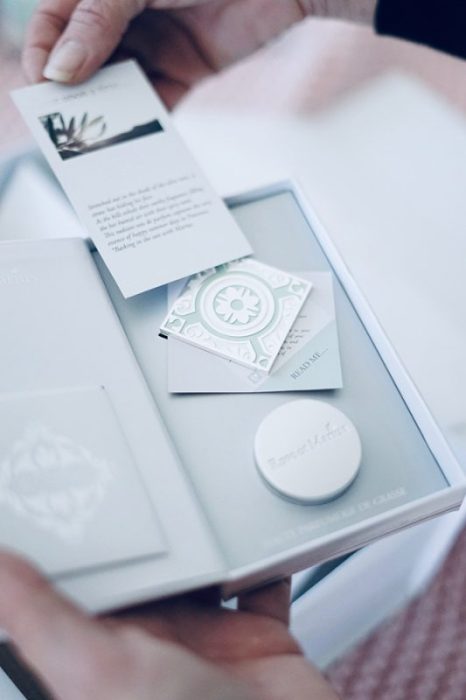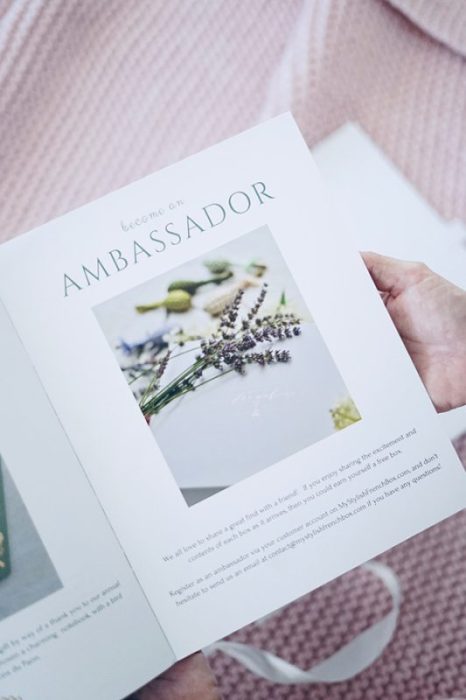 10-day Tours to the French Riviera
Small-group Tours for Women staying at
Villefranche sûr Mer on the Côte d'Azur
Stay in the *heart* of Villefranche sûr Mer. Discover the Côte d'Azur: the hilltop village of Èze, over-the-top Monaco, gentle Antibes, vieux Nice, artsy St Paul de Vence, and more. Lunch at Beaulieu sur Mer, visit Villa et Jardins de Rothschild and the divine Villa Kerylos, explore medieval Italy, and dine in any of the fabulous restaurants in Villefranche.
Go touring and experience those fabulous Mediterranean views, and have lunch in Italy. Breakfast at the celebrated Welcome Hotel, dine by the harbour, and relax in a beautiful apartment in the old town.

Oh, the places, the views, the food, & the shopping..!